Computer Repair Agoura Hills
When you need your computer repaired, you need it done as quickly and accurately as possible. At PC Express in Agoura Hills, we work hard to provide you with all the computer services you need for your home or business. Our dedicated technicians are always willing to help solve even the most complex computer issues. Whether your screen is broken, you have a data recovery issue or your laptop is just running a little slower than normal, we can help.
Our staff at PC Express understand how to talk to you. We won't try to bore you with technological data on your laptop. Instead, we will explain the problem and tell you exactly how we can fix it. Our expert technicians are able to quickly identify computer problems and errors, the provide you with accurate and helpful solutions.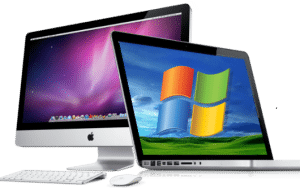 We make every part of the computer repair service easy. We offer a number of different options, but always show you the fees upfront. Our simple billing system makes computer repair a more affordable option then replacement.
If transportation is an issue, our technicians provide onsite computer support as well as pick up services. This makes it easy to get the repairs you need, even if you have a busy schedule.
How Does Our Professional Computer Repair Service Work?
PC Express is a certified professional computer repair service that can help with a number of different issues. We work with both Apple and Microsoft products to help provide you with a more comprehensive service. We can help with all computer-related issues including virus and spyware removal, office computer installation, data recovery, software and hardware adjustments, laptop repair and mobile computer services.
Our services start with you bringing us your computer equipment or us coming to your location. We will then inspect your technology and offer reasonable solutions to your issues. We will provide you with a billing estimate as well as plenty of options.
If you are in need of excellent computer repair services from certified professionals, contact PC Express in Agoura Hills today.