Remote It Services For Your Business
PC Express systems engineers and technicians work in complete unison in order to rapidly implement secure computer network infrastructures in order to meet any of your company requirements. We are happy to focus on active directory, exchange, group policy, VMware, and any additional remote server needs. PcExpress also specializes in server repair Windows, Linux, and others.
Server Maintenance
We specialize in server maintenance, disaster recovery, and continuity.
We have many different services and we can provide any of the functions you require. Our primary services involve; remote server repair, maintenance,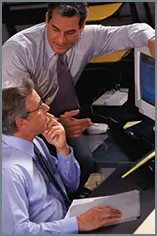 implementation, disaster recovery, Microsoft Exchange, VPN, anti-virus solutions, data storage, and switch and router configuration.
We also provide services for Dell, IBM, Hewlett-Packard, Oracle Corporation, and Sun Microsystems.
We are the number one choice for your network infrastructure. PcExpress understands that networks require ongoing upkeep, regular checking, and continual configuration. We are the best choice for Server Repair, maintenance, and configuration.
Services We Offer:
Repair Server 2008R2 Installation

Repair Server 2012R2 Registry

Repair Server 2016 

Home Server Troubleshooting

SQL Server Fix Master Database
Please contact us today!
(951)490-9580